1000s of South West Africa Stamps - browse & buy stamps today!
Use the links below to navigate to the section that interests you
The stamps and philately of South West Africa
This country was originally a German colony know as German South West Africa; during the First World War it was occupied by South African forces and the unoverprinted issues of South Africa were used - these being known as 'forerunner' issues. The first stamps overprinted 'South West Africa' were issued on 1st January 1923 and the name 'South West Africa' was used until independence in 1990 when the country changed its name to Namibia.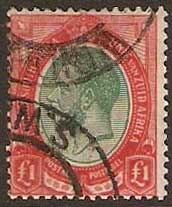 Examples of a rare forerunner £1 stamp and a later bilingual overprinted King's Head pair

For some choice specialist items and to view KGV/KGVI South West Africa stamps please view the SWA Stamps 'Single Items' pages.

The items found in our 'Price List' section covers South West Africa stamp issues of the QEII period, 1952-1990. Please note, in this section mint stamps are only stocked in un-mounted mint condition. Some used stamps may be supplied with cancelled to order postmarks.Use the links below to navigate to our Price List stamps:

South West Africa Stamps: QEII Definitives
South West Africa Stamps: QEII Commemoratives