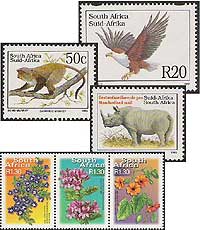 There are four sections to the RSA listing;
Definitives, Commemoratives, Postage Dues and Booklets. The definitives are further broken down into their sets, just follow the links at the top! A blank space in the price column for a stamp means it is currently out of stock.

There are many beautiful sets, full of topical
interest. Not only will lovers of wildlife and
birds on stamps find many stamps they want,
but also collectors of ships, sports, rocks & minerals, famous people and many more will
find stamps for their collection too.
Check out the booklets too for more items
to add to your topical collection of stamps.